Qari Anuar Hasin and Qari Abdullah Dawud South Africa Tours 2016
Qari Anuar was the champion reciter in the state of Perak for four consecutive years (2009- 2013). He emerged as the winner of the Malaysian national Qur'aan competition in 2013, and achieved the second runner- up position on international level in the same year.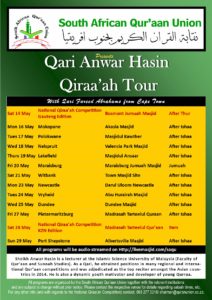 He was also adjudicated as the top reciter amongst the Asian countries two years ago. Being a distinguished reciter, he was afforded the opportunity to teach Qiraa'aat on university level and is currently employed at the Islamic Science University of Malaysia. He is a popular presenter of Qur'aan recital and development programs for youth throughout the country.
Download Qari Anuar Hasin recitations from the SA Tour
Sheikh Abdullah Dawud, aged 35, began his early Islamic education in his homeland, Tanzania, and later qualified as a specialist in the sciences of Qiraa'aat at Dar al- Mustafa, Tarim, Yemen. He obtained second position at an International Qiraa'ah competition in 2010 and shared platforms with Qari Ahmad Naeena, Sh Farajallah Ash-Shaadhili, and other outstanding Qurraa from all over the world.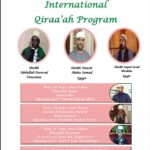 Since completing his term in Malaysia, he is presently teaching Qiraa'aat in the United Kingdom.
Download Qari Abdullah Dawud recitations from the SA Tour